I spotted this on Debi Fry's blog at
Fashions From the Past
: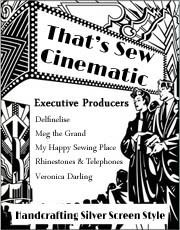 I posted with
Rhinestones and Telephones
that I wish to take on a project I thought about 10 years ago for a nightgown not unlike what Irene Dunn wore at the end of 'My Favorite Wife'.
It has been a while and I am afraid I did not remember the puff sleeves and that the opening is above the bust line, not below:
Another observation is the slashed opening in the back.
Here is the pattern I found to be very similar (style at upper left, with the opening):
Don't imagine I will commence the project before the end of this month due to heavy deadlines, but I will post my progress to keep you all up to date.
In the meantime, I encourage you all to take a look at this sew-along challenge and participate!
P.S. Here is Cary dressed as Santa, it was too cute not to share here!